So, you went on a trip abroad after graduation to celebrate seven grueling years at one of the most poorly regulated schools in wizarding history. You may have gone to the ruins of Atlantis or visited a remote monastery in Tibet. Maybe you hiked in an isolated forest in Albania. Nonetheless, you came back as the host to a dark wizard's wandering soul, with a second face on the back of your head.
Hey, it's okay. It happens. We've all been there.
But now, while you heed this maniac's commands and struggle to meet their demands, in order to go about your daily life with two faces (one of which is gaunt, soulless and dead–looking), you need to hide one with a scarf. Street's got you covered (literally).
Here's our list of ve scarves you can order on the Muggle Interwebs, all to hide the Dark Lord feeding o the back of your head.
---
1. Try this classic, Wool–Blend Tube Scarf from H&M. Its timeless design will blend in with the unchanging environment of the school your master has made you infiltrate, while allowing you to hide him and your neck from the drafty hallways of a castle (frat, or otherwise). You'll only be bullied by the students a little bit.
---
2. For a more city–chic twist, check out the Jack & Jones Snood from ASOS. is snood allows for sleek silhouettes when covering the back of your head during the day. By night, when your master insists that you sleep on your stomach so that their face isn't smashed into a pillow (if you're not running around chasing after unicorns and destroying your soul), the snood can serve as a plushy extra layer between your face and your pillow.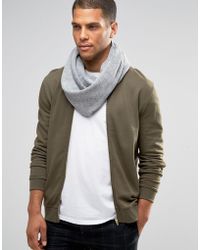 ---
3. This Fringe Flannel Scarf from Forever 21 will help you exude cool and hip, despite the promise of impending doom embedded into the back of your head, where your beautiful hair once was. The scarf is also large enough to hide your face and your constant, crippling self–doubt brought on by delving into dark magic.
---
4. Looking for an edgier vibe and extra coverage? This Blanket Scarf in Geometric Color Block from ASOS claims to "fall generously over the body" which is definitely what you need when an ungrateful, overbearing, parasitic entity has taken over your body and continues to bitch about your lack of generosity.
---
5. ASOS's Lightweight Oversized Red Plaid Scarf is perfect for those whose masters with a literal taste for blood. The red and black checkered scarf will make for an excellent disguise and cover up any blood on your master's face, while allowing you to blend into 21st Century Muggle society.
---
6. The Nubby Oversized Blanket Scarf in red is essential for those whose masters go overboard on the whole feeding off blood thing. The vibrant red is sure to cover all human blood used in your master's blood magic and help you ooze confidence, despite your general fear of displeasing the Dark Lord that has taken over the most inconvenient part of your body. Best of all, this stylish scarf will stop you from looking like the fool your master says you are.
---
7. For total coverage, this Hat and Scarf set from H&M is perfect! The hat covers your master's disfigured, soulless face, even if the matching scarf slips from on top if it! If someone points out the lumps in the back of your head, pat down the back of your head while blaming it on your "craaaaazy bed head" and ignoring the weak but indignant protests from someone you will surely be answering to when he gets his body back!
---
8. Feeling fabulous? Check out this Faux Fur Oblong Scarf from Forever 21! It's long enough and green enough to cover the eerie green glow shinig from back of your head when your master wraps up a 12th Century Wizard's ritual. Want even more essential production suggestions for surviving the impending Third Wizarding War? Subscribe to our Essential to Surviving Products Newsletter via owl!
---
9. Feeling fabulous and adventurous? This fun Rainbow Fur Scarf is perfect for hiding the murderous tyrant on the back of your head! You'll be able to lull people into a false sense of security with a conversation about where you got that gorgeous and flirty scarf from, just seconds before you Avada Kedavra them on the Dark Lord's orders!
---
10. Does your Master demand to be kept warm? Or perhaps you want to subtly make his existence a bit harder and stuffier? Then Uniqlo's Heattech Scarf is just for you! Made with Uniqlo's special heat retaining yarn, this scarf is sure to keep your second face a bit toastier.
Warning: Proceed with caution if you suspect your bodiless soul had an unhappy and loveless life. Uniqlo makes some (questionable) claims about being able to bring joy, happiness and love into your life through their Heattech.
Want even more essential product suggestions for surviving the impending Third Wizarding War? Subscribe to our Essential to Surviving Products Newsletter via owl!
---
Comments
All comments eligible for publication in Daily Pennsylvanian, Inc. publications.